To all posts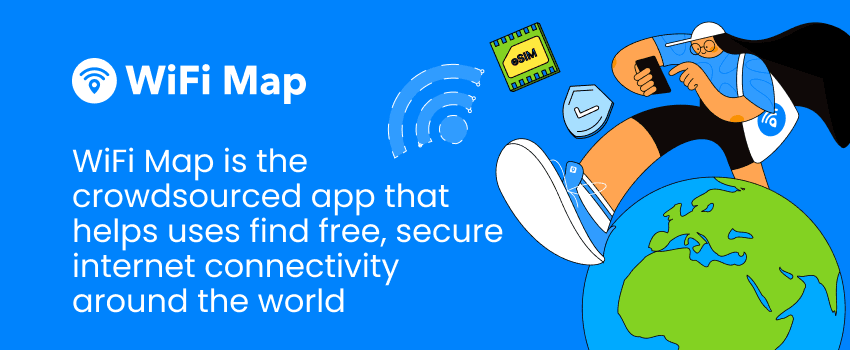 WiFi Map is the сrowdsourced app that helps users find free, secure internet connectivity around the world
CREDIT CARD NEWS

By: Matt Walker
Posted: May 4, 2020
Our experts and industry insiders blog the latest news, studies and current events from inside the credit card industry. Our articles follow strict 
editorial guidelines
.
In a Nutshell: Wifi access for people working on the go is vital in today's society, but costly plans don't always make it feasible to rely on existing data. Meanwhile, underserved communities may struggle with having internet access at all. WiFi Map is helping to solve these problems for millions of users around the world. The app uses crowdsourced data to identify free, secure, and reliable wifi hotspots on six continents. WiFi Map can also be a valuable tool for businesses and community leaders. Additional features, such as offline maps and VPN service locations can also be purchased within the app.
Smartphones and other portable devices are quickly becoming the de facto office for many workers on the go in today's increasingly digital society. Of course, access to the internet is an indispensable component in our cyber offices.
But sometimes it can be impractical to use our own mobile plans for large applications or data-heavy programs. In fact, many folks who have had to conduct business while traveling have experienced sticker shock when their next cellphone bill rolls in, due to having to access high amounts of data.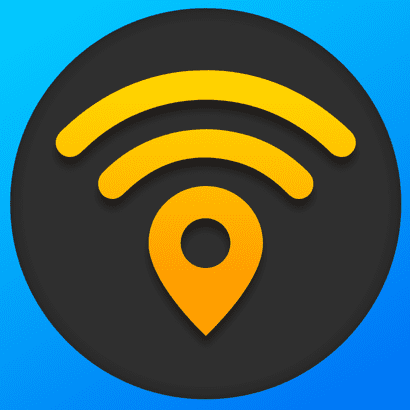 And while many folks take internet connectivity for granted — expensive or not — there is still a large number of households in the U.S. that don't have internet at all due to the month-to-month cost of maintaining the service.
Now, imagine a world with free wifi connectivity for anyone, anywhere.
That's what Wifi Map has done, and the mobile app is already making its vision a reality for millions of users around the world.
"The mission of WiFi Map is to 'Empower people worldwide with FREE Internet access, according to a case study on the company by the Wireless Broadband Alliance (WBA). "Connection to a quality broadband experience is now required to function in today's society"
We recently spoke with Denis Sklyarov, CEO of WiFi Map, LLC, about how the powerful app is helping to bridge the digital divide for underserved and financially challenged populations as well as digital nomads simply looking for reliable, free wifi.
How WiFi Map Works
"WiFi map started about seven years ago with the intent of creating a sharing economy, so to speak, where the idea was to create an app that shows people free and accessible wifi, specifically via a means of crowdsourcing," Sklyarov said.
And crowdsourcing is key to the effectiveness and success of WiFi Map.
"It's relatively easy to just create an app and put in x amount of hotspots into the database," Sklyarov said. "But the wifi footprint is not static, it's dynamic. It constantly changes when new venues open up or businesses close down, they change internet providers, and so on."
Keeping a truly global, up-to-date database of fresh, secure, reliable, and fast wifi access is virtually impossible without some level of crowdsourcing, he said. So, over the past seven years, WiFi Map has been perfecting its crowdsourcing capabilities as well as its internal APIs to ensure it is pushing the most accurate data out to its users.
Sklyarov added that WiFi Map is actually releasing a completely rewritten iOS version of the app in the coming months.
While crowdsourcing data is the app's driving force, this rich data is also supported by a very complex scoring system within the app. Each wifi point receives a score based on a number of parameters, Sklyarov said, which is based on both the contributor's assessment of the wifi hotspot as well as WiFi Map's evaluation of it.
Users who download the app have access to a GPS-based map that shows the rated hotspots, including business names and addresses, within their vicinity, including business names and addresses. It can even show users how much money and cellular data they have saved by using WiFi Map.
WiFi Map's footprint is impressive. Its database currently contains locations for wifi connections on six continents, including approximately 630,000 free wifi connections in North America, 1.3 million connections in Europe, and 1.2 million connections in the Middle East.
Organizations Can Add Their Information to the App to Help Boost Name Recognition and Gain Customers
Besides helping consumers gain access to reliable, free wifi, WiFi Map can be a useful tool for businesses and other organizations as well.
The WBA case study explains that WiFi map data can be extremely valuable for large travel organizations such as Kayak or Expedia and hotel chains.
"WiFi Map can provide their business or vacationing customers with navigational information to free quality WiFi locations," according to the case study. "This saves their clients expensive roaming costs."
The company also points out how the app can be valuable to wifi phone network providers as well.
"The more a subscriber uses WiFi, the less data will need to be purchased from an MVNO," according to the company. "Making it easy for their subscribers to find free WiFi is a benefit to both their customers as well as themselves."
Businesses can download the app and add their information themselves to help attract customers.
"Our users have spent $39,424,524 in businesses like yours," according to the company. "Customers are in constant search of wifi. If you are a business owner that offers free wifi, simply add your business to WiFi Map."
Even city officials can benefit in multiple ways by leveraging data from WiFi Map, according to the WBP case study.
WiFi Map data can provide required visibility to city leaders to help solve traffic issues such as congestion or public transportation bottlenecks.
"Many municipalities are deploying 'Smart City' initiatives. All these initiatives revolve around getting better information regarding their municipality," according to the company. "WiFi Map can provide the required information needed to determine the right course of action regarding their 'Smart City' initiatives."
City officials can also better promote free wifi opportunities to their jurisdictions which helps underserved populations.
Users Can Secure Access to More Features and Eliminate Ads in the App
For internet users who want to avoid seeing ads and gain a few extra valuable features, WiFi Map offers in-app purchases to gain access to these perks.
Users can also access information to use Virtual Private Networks (VPN) for added privacy during their internet sessions.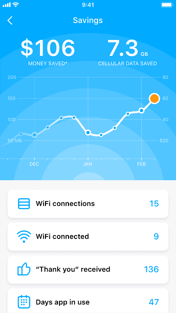 how much money and
data they have saved by
using the free app.
"We have a VPN solution within the app that basically allows people to purchase a VPN service, so we're not only pointing them to free wifi but at the same time we're giving them the opportunity to fully secure it," Sklyarov said.
This function not only helps the average user browse with greater peace of mind, but it promotes the free flow of information. Sklyarov said it allows users in countries with strict internet content laws to access news and websites that may not be allowed through an open connection.
Users can also make an in-app purchase that gives them access to offline maps for when they don't yet have access to an internet connection but need to find one.
And for readers who may have noted that while many businesses and other organizations offer free wifi, a password is needed to access it. But WiFi Maps has that covered.
"Once you've found a hotspot you want to use, simply select it to see more detailed information," according to the WBP case study. "This screen shows information like the name, address, and speed of the connection. If the connection is secured by a password, the wifi password shows as well."
WiFi Map does not endorse or rely on illegal password hackers, however.
"Anyone who is part of WiFi Map's social community can add their own WiFi password entries, expanding a network of hotspots that already includes more than 100 million connection points worldwide," according to the company.
With more than 100 million wifi connection points identified around the world, WiFi Map is proving to be a simple way for workers on the go to save money and help bridge the digital divide for underserved communities.